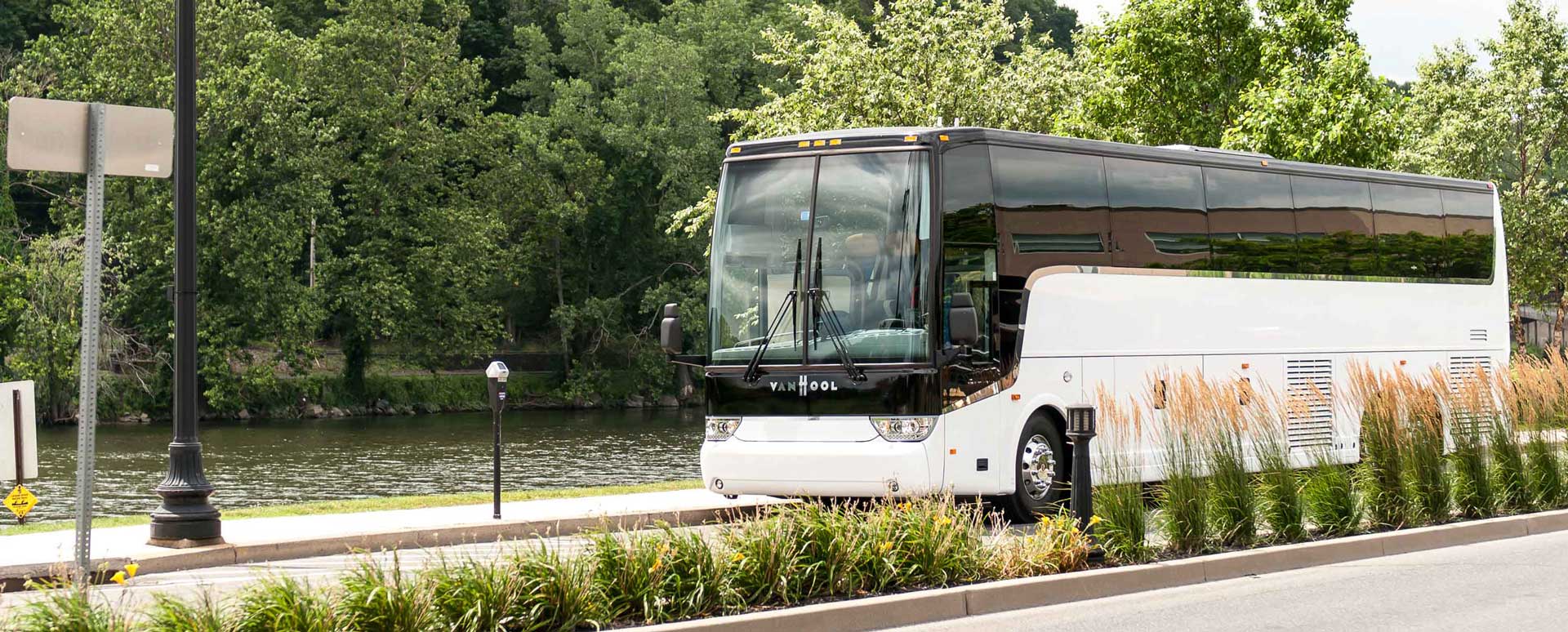 Luxury River Coaches
For eight years running, the American Queen Steamboat Company has been voted "Best Shore Excursions" by the World Ocean & Cruise Liner Society, an accolade due in no small part to their land-based provider, Shore Excursions of America. With an emphasis on partnership with local suppliers and city convention and visitor bureaus to create authentic, immersive tour experiences, Shore Excursions of America (SEA) continues to revolutionize the American river cruise industry with its innovative "Hop-On Hop-Off" port-of-call motor coach sightseeing tours.
SEA, working in partnership with the American Queen Steamboat Company, boasts a multifaceted and "Uniquely American" river cruise experience through inclusive city tours designed in collaboration with local experts including historians, museum directors, and individuals from local chambers of commerce. SEA is America's most extensive sightseeing network, offering more "Hop-On Hop-Off" tours than any other excursion provider in the world. They are the only shore excursions provider to include tour narration and admissions to local attractions. Locally hosted tours are crafted to capture the very best attractions each port city has to offer, all in a streamlined day trip by deluxe motor coach, available at all 77 ports of call.
ONE-OF-A-KIND RIVER COACHES
SEA's first-of-their-kind motor coaches, nicknamed "Rivercoaches" for their riverboat-like exterior designs, were specially developed by SEA's land operations team based on five years' worth of customer feedback, gathered through guest satisfaction surveys and suggestions. SEA worked directly with engineering teams at Van Hool coachbuilders and ABC to incorporate many unique features distinctive to the high standards of luxurious European touring companies, then customized them to fit American sensibilities.
"The American Queen Steamboat Company's presence has boosted visitation at our city's attractions. It's wonderful to see visitors with the AQSC walking along Washington Street in the heart of Vicksburg."
–Ashley Gatian, Vicksburg Convention and Visitors Bureau
CUSTOM FEATURES
Special cooperative agreements with Easton Coach Company of Easton, PA provided enhanced motor coach services, and each custom component was specially sourced and requested. Special options include: second door access with wider, deeper steps for a more convenient and safer entrance to the center of the coach; skylights that provide guests with a panoramic view of their surroundings while on tour; lower, less obtrusive seatbacks for a better forward-facing view; restrooms located in the rear so that, unlike other European coaches, guests will have better, safer access to the facilities; jump seating for tour guides for better access to the entrance door during tours; 100 percent accessibility across the entire SEA fleet, with wheelchair lifts in the rear of the coach; three rows of uniquely embroidered upholstery to better designate special seating for mobility-challenged guests; GPS and mobile cameras to allow guests to track their motor coaches' arrival times; contoured overhead racks for more visibility from the side windows and skylights; hideaway video monitors for better and clearer views, and wireless microphones to save time for guides and guests when alighting from their coaches.
"Shore Excursions of America is unique in offering custom overhead parcel racks that allow more openness to the atmosphere and views.  This high end TX45 features one of our premium options, a glass top roof.   This allows passengers to view the sky and all the surroundings for better visibility and making the ride more enjoyable, scenic and attractive.  We look forward to delivering more units like this one as it is very unique in its kind, therefore challenging other operators to experience more comfort and luxury."
–Jay Oakman, Senior Vice President of Commercial Operations
INNOVATIVE TRAVEL
From air to land to water, Shore Excursions continues to provide new, innovative travel experiences with a refreshing take on local sightseeing. Their services include pre-cruise hotel city stays in all embarkation cities, luxury transportation to attractions and restaurants, and partnership with local tour guide groups. And cruise operations are growing; between the American Queen, its sister ship the American Empress, and the newest ship in the fleet, the American Duchess, Shore Excursions of America provides 188,000 individual tours for guests each year.
This is an intermodal tourism project using many if not all aspects of sustainable and progressive tourism marketing. With tours to over 300 attractions in 16 states, Shore Excursions of America offers more shore excursions than any other tour provider in the United States. Partnerships with local tourism operations allow for more exclusive tour experiences than any other shore excursion supplier to date.
"The high-end experience that Shore Excursions of American creates for the American Queen Steamboat Company's passengers is the single best piece of business in which Easton Coach Company is involved. It was a thrill to be involved in the planning and design of these new, magnificent coaches. I have no doubt that they will enhance an already fantastic product. They are truly the most amazing motorcoaches that I've ever seen and exemplify SEA's "we can always do it better" attitude."
– Joseph Scott, President & CEO, Easton Coach Company